---
Want the Most Cash in Your Pocket for Your Old Car?
The process of selling a car can be full of stressful decisions. Sell your car fast by trading it into a dealer for a new model? You'll take a bath on the trade-in value because the dealer wants to make a markup on your trade. Sell it yourself? Then you have to deal with questions and marketing your vehicle to get buyers. Either way has a way to leave you sleepless.
Making the Most Money
Selling the car yourself puts the most cash in your pocket. You have total control of the price you offer the car for to the car-buying public. You don't have to deal with the dealer's inevitable undervaluing of your trade. Take control back and do it yourself! You'll be smiling to the bank and walking into the dealership for your new car with a wad of cash.
Marketing your car can be difficult to master if you've never done it before. Let's break it down into important factors that buyers use when making a purchase decision:
Do you give them the critical information about the car upfront?
Do you make it clear what you're asking price is? No one wants to hunt for it.
Do you make your contact information clearly visible. This allows a browser to turn into a buyer.
Does the buyer get a sense of confidence about the vehicle? Presentation is important in any sale!
All these factors are within your control to leverage and make an easy sale. All it takes is convincing one potential buyer to email or pick up the phone to convert your old car to hard cash.
What the Dealers Use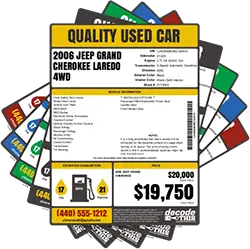 Now answering these questions is also the goal of any car dealer. They have the perfect tool to inform the buyers: a window sticker.
The window sticker (also called a Monrony Sticker) is a written summary of the features of a car that is usually displayed in the window. Being in the window means anyone can read the information, regardless of the time of day they visit. Think of it as your 24-hour salesperson, always ready to promote your vehicle.
Window stickers have been a feature of new cars for decades. New car dealerships rely on them to inform the customer and help sell their cars and trucks. Used car dealers are also using window stickers as a powerful sales tool, one that has been exclusively available to them, until now.
Decode This Window Stickers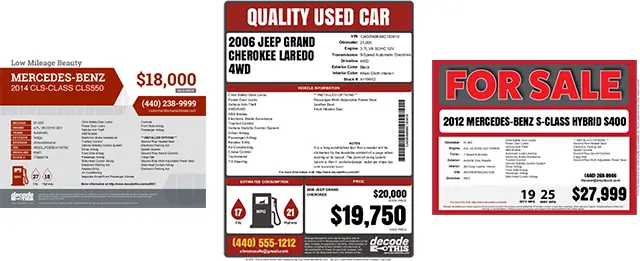 We've worked with some top-notch designers to bring customizable window stickers to everyone! Now anyone can generate a window sticker of the same professional quality as your local car dealer. It's easy to do:
Decode a VIN as usual
Click on the "Sticker" tab and create your window sticker
Download and print your sticker!
We provide the window sticker as a downloadable PDF file, meaning you can print as many copies locally as you need! Create multiple versions and print out copies to post on classified boards at the office or anywhere there's potential customers.
We have an ever-growing list of templates for you to use when you design your window sticker. Visit our Template Designs Page to preview what's available.
Any logged in user can create a window sticker, but in order to download the final product you need to unlock the VIN. You can unlock any VIN for $3.99, giving you the ability to make unlimited window stickers for that vehicle.
Window Sticker and Subscriptions
Are you already a Patron level subscriber? If so, we're rewarding your patronage by providing 5 free VIN unlocks a month! Use them to sell a car or design a window sticker for use in a car show. They're yours with our thanks. Our subscribers mean a lot to us.
Are you a dealer looking for a window sticker solution? We also provide a new Dealer subscription plan that gives you unlimited VIN unlocks each month. Create stickers for your inventory on demand. You can even use your phone to create a window sticker out in the lot.
Try it out!
Give creating a window sticker a try! You can design your sticker by going to the "Sticker" tab of any vehicle you decode. Unlock the VIN when you're satisfied with the outcome. Sell your car faster with a window sticker!