---
What we've added
New Features Added to Decode This!
Window Stickers are here!
Added: 5/30/2016
Access: Patron and Dealer Subscribers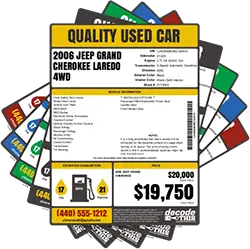 We've added the ability to create customized window stickers (also called Monroney stickers) to Decode This!
Once you've decoded a VIN you have the option to create a colorful and professional-quality window sticker to use in advertising your used car. Window stickers are one of the premier ways car dealers promote their vehicles. Your window sticker is available as a PDF and can be downloaded and printed with your local printer, or emailed to buyers! Window Stickers act like a 24-hour salesperson: always ready to give information on your car.
In order to download and print window stickers for your vehicle you must unlock the VIN. You can unlock any VIN for $3.99, giving you the ability to design and print any number of window stickers for that VIN.
Patron subscribers can unlock 5 VINs for free every month. If you need more the new Dealer subscription level can unlock an unlimited number of VINs! Creating window stickers can also be done via the API.
To design a window sticker on Decode This is simple:
Decode the VIN
Select your template and options
Download and Print!
We have a dozen window sticker templates at launch and we'll be adding more over time. Each design has a layout that highlights the important for buyers. We support classic and modern vehicles. The window sticker is also great for car shows!
To find out more read our page on window stickers.
CSV Output
Added: 4/2/2016
Access: Patron Subscribers
We've had several requests to allow access to the decoded data in a manner similar to the way the old site provided, by copying and pasting the web page.
We've decided to go one better and allow Patron subscribers the ability to access the data as a CSV (Comma Delimited Value) file that can be imported into Excel or any other spreadsheet application.
Added to the decode results for Patrons is a new link next to the printer icon: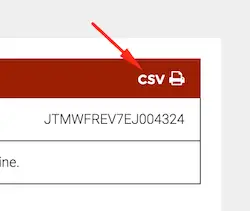 If you're using FireFox, Chrome, or the new Microsoft Edge browser you will be prompted to download the file. Other browsers (sorry Safari and IE users) will get the file displayed in the browser. You can either copy the data from the page, or right-click on the "csv" link and choose "Save As" to save the file.
Also currently it's not displayed for mobile device users because of screen space. Speak up if you're a mobile user and think this would be useful.
Data Format
The CSV file contains the data for the currently selected trim level, in 4 columns:
name

,

 

value

,

 

unit

,

 

options



name: Name of the item (i.e. Make)
value: Value for the item (i.e. Ford)
unit: Unit of measure for the item (i.e. "in." for inches)
options: Some categories (such as Exterior Color) may have more than one value. In this case the values are listed in this column separated by the pipe character ("|").
Sample CSV file: WAUDG74F26N068782.csv
---