---
Can the Big Three get much bigger?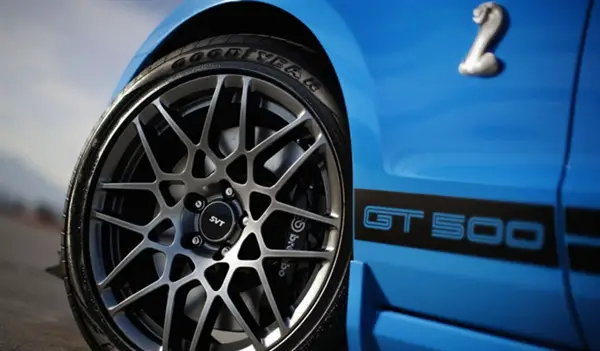 The 2013 Ford Shelby Mustang is a big hit for muscle car fans.  Putting on an amazing 662 HP it's the highest horsepower vehicle Ford has ever entered into production.  Is it the ultimate winner in the horsepower wars?
In 2010 Ford introduced the latest generation of the Shelby Mustang. It's partnership with the legendary Carroll Shelby had culminated in a 540 horsepower behemoth.  Based on the Mustang GT, the Shelby Mustang added a larger engine, better suspension, and a screaming supercharger that upped the ante.  In 2011 Ford upped it even more by squeezing out another 10 HP to bring the total up to 550.
For 2013 Ford wanted to showcase the car yet again by replacing the 5.4 liter engine with a monster 5.8L powerplant with even greater output, raising the total to 662 horsepower.  The 2013 car is easily the fastest street Mustang ever to come from Detroit.
The 5.8 liter engine in the 2013 Shelby puts out a ground-pounding 662HP.
With one more model year until the expected retooling of the Mustang in 2015 we can most likely plan to see a minor bump in 2014 (680hp?), but most likely this will be the highest horsepower passenger car Ford will build for the foreseeable future.
In 2015 the rumors are that the new Mustang will be redesigned to appeal to a younger audience that doesn't hold the classic body style of the 60s pony in regard.  Most likely a smaller, lighter car, the 2015 Mustang is rumored to also have a more fuel efficient engine; either a turbocharged 6-cylinder of 4-cylinder design.  
The reason is simple: with gas prices approaching $5 a gallon and a need to meet CAFE average fuel efficiency ratings, hard charging 8-cylinder engines will become a rarity.  Even the 2013 Shelby, one of the most fuel efficient of the breed to date, can average at best 20 MPG.
I expect the 2013/2014 Shelbys to be the last of a generation of muscle cars that use brute force cubic inches to make their mark.  2015 and beyond Ford, as well as Chrysler and Chevrolet, will have to think smarter, not bigger.
But for, let's enjoy the sounds of a rumbling small-block V8...
---